Programmes
·
London
·
Hybrid Remote
Head of University Access & Digital
Would you like to lead our university access and school engagement programmes? Why not apply to be our Head of University Access & Digital!
Deadline: 9am Thursday, 30th November
This is an exciting opportunity to lead a team delivering high-impact programmes that support young people to access leading universities in the UK and US. These programmes take the form of both digital and in person interventions and are delivered both directly by the Trust and in partnership with other organisations. 
With a total budget of > £3m, the role oversees the strategic direction and delivery of: 
The flagship UK Summer Schools programme (supporting 2,700 students a year) 
The US Programme (a 2-year programme supporting UK students to apply to US universities) 
Sutton Trust Online (a light touch digital platform working with 8,000 students annually) 
Teacher Champions (online training for UK state school teachers to empower them to help their students access university) 
The Trust's school and parent engagement strategies 
The role is dynamic and diverse requiring you to be able to think strategically whilst devising and delivering on operational delivery plans. You will have significant responsibility for managing key relationships across leading university, delivery and funding partners including negotiating contracts and performance management.
This role is part of the Programmes Leadership Team and will work closely with the Director of Programmes, Head of Employability Programmes and Head of Alumni Engagement on shaping the strategic direction of the team and its programmatic work. Beyond this, there is scope to work with colleagues across the Trust on new initiatives and work streams.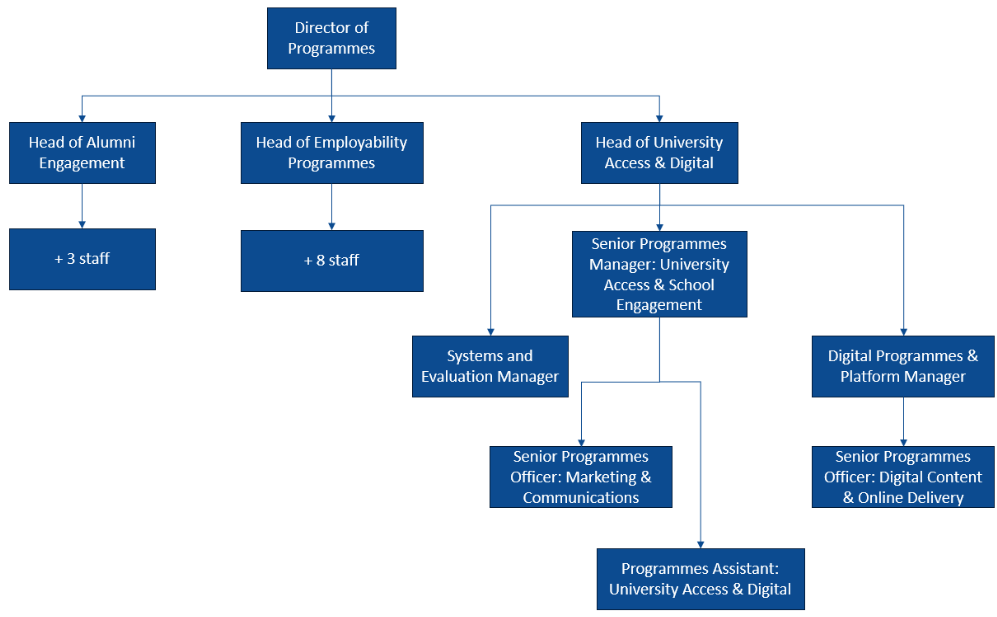 ---
Main duties

1. Programme Management
Developing strategy and operational plans and overseeing delivery, monitoring and evaluation of university access and school engagement programmes including UK Summer Schools, US Programme and Teacher Champions
Overseeing the management of Sutton Trust Online, including design of the programme, technological development of the platform and evaluation
Overseeing the marketing, publicity and targeting of programmes, to ensure they reach our target beneficiaries
Oversight of our CRM (Salesforce) and other digital systems that support the smooth running of programmes and active involvement with and support for the Systems and Evaluation Manager as these are developed
Acting as budget holder for relevant programmes and reporting on financial status internally and to programme donors
2. Relationship Management
Managing key relationships with technology, delivery, funding and university partners, including negotiating contracts and performance management
Managing and maintaining the Trust's relationship with Fulbright and US stakeholders including donors
Working with Director of Programmes to develop and deliver a university engagement strategy covering programmes, research, policy and communications in partnership with relevant teams to deepen impact of Trust's work and outputs
Helping to develop new programmes and new elements to existing initiatives, including contributing to the drafting of funding bids by development colleagues
3. Team Management
Leading the university access and digital team to ensure effective delivery of programmes, including line management responsibility, team meetings, pastoral support and appraisals
Line managing, motivating and proactively supporting Senior Programmes Manager: University Access & Digital, Digital Programmes & Platform Manager and Systems & Evaluation Manager in their professional development
Working with Director of Programmes and Heads of Programmes on team management, culture and long term planning
Working across the organisation on cross-team projects, such as contextual admissions, essential life skills and systems
Member of extended-SLT
4. Organisational Duties
Being part of the Trust's designated safeguarding team including reviewing policies and processes and managing safeguarding cases or concerns
Monitoring and championing data protection within your team including working with the Director of Programmes and the Trust's external DPO to maintain relevant policies and processes
5. Other duties as necessary from time to time
---
Person Specification
Skills and experience
Developing strategies, frameworks and operational plans for complex, interdependent projects and programmes
Demonstrable experience of designing, managing and delivering programmes for young people to a high standard
Experience delivering programmes online or building digital platforms with a strong understanding of databases, data processes and experience using a CRM (ideally Salesforce)
Managing, motivating and developing teams to deliver successful projects
Experience in monitoring and evaluation, managing budgets, financial control and administration
Building relationships with significant, diverse stakeholder groups
Excellent verbal and written communication and strong analytical skills
First-class interpersonal skills - a natural ambassador able to represent the Sutton Trust in a range of settings
Have worked within or have an understanding of the not for profit sector
Understanding of the UK school system and university access and experience of working with schools and colleges
Competencies
Is sympathetic to the aims of the Trust and its mission to address educational disadvantage
High degree of initiative and the ability to take responsibility for specific programmes
Excellent attention to detail
Personable, flexible and discreet; able to fit in to a small team
Other 
Is eligible to work in the UK*(see here for information about right to work)
*Please note that we are unfortunately not a licensed visa sponsor
---
Terms of Appointment
Contract: Full-time, Permanent
Salary: £55,000-£65,000
Office location: The Sutton Trust, 9th Floor, Millbank Tower, 21-24 Millbank, London, SW1P 4QP. Our home working policy gives staff the option to work from home for up to 60% of the time, with approval from their line manager.
Hours: The standard working hours are 9am to 5pm, Monday to Friday and may also be required to attend events / meetings outside of their normal working hours during weekday evenings and occasionally at weekends
DBS check will be required
Scroll down to find out about our staff benefits!
Please note that your application should be submitted in one go - you can view the questions by clicking on the link if you would like to prepare in advance.
---
Interviews
Applications should reach us by 9am Thursday, 30th November, with first round interviews held over Zoom on Wednesday, 6th December , and second round interviews held at our London offices on Tuesday, 12th December.

---
Safeguarding statement
The Sutton Trust believes that a child, young person or vulnerable adult should never experience abuse of any kind. We all have a responsibility to promote the welfare of all children and young people and to keep them safe. Therefore all posts undergo a safer recruitment process, including but not limited to, disclosure of criminal records where necessary and eligibility to work in the UK. We have procedures in place to promote safeguarding and a safe culture at the Trust.
---
Contextual recruitment
The Trust is committed to ensuring equality of opportunity and that all applicants receive equal consideration for employment. We strongly encourage individuals from all backgrounds, including those underrepresented at present at the Trust, to apply for this role. As such we particularly welcome applications from people with disabilities, Black, Asian or Minority Ethnic backgrounds, LGBTQ+ and from different socio-economic and educational backgrounds. We are committed to being an inclusive and welcoming place to work and know that greater diversity will lead to even greater results for the young people we support.
We are committed to providing reasonable adjustments for disabled candidates throughout our recruitment process and during employment.
We also operate contextual recruitment at the Sutton Trust. Our application process gives you the option to include information about your background, such as whether you were eligible for free school meals, whether your parents went to university, or whether you attended a state school. For more examples and information on contextual recruitment, please see our website.

Department

Programmes

Locations

London

Remote status

Hybrid Remote

Yearly salary

£55,000 - £65,000

Employment type

Full-time

Contract length

Permanent

Interview Round 1

06 December, 2023

Interview Round 2

12 December, 2023

Deadline

30 November, 2023
Our Benefits
Annual leave

27 days per annum plus bank holidays (29 days per annum for roles at 'Head of' level and above).

Pension scheme

Contributory pension scheme (subject to the conditions of the scheme) which includes a 6% employer pension contribution.

Parental leave

Enhanced maternity, paternity, adoption, and shared parental leave pay (conditions apply)

Flexible working

Minimum 2 office days per week, plus Flexible Working Policy

Wellbeing

Annual wellbeing workshops and access to confidential Employee Assistance Programme

Other benefits include:

Cycle to work scheme, life assurance cover, season ticket loans, and free tea, coffee, fruit and lunch when working from the office.
"The Trust is committed to ensuring equality of opportunity and that all applicants receive equal consideration for employment. We strongly encourage individuals from all backgrounds, including those underrepresented at present at the Trust, to apply for this role and recognise the value that diversity brings to our work."

About The Sutton Trust
Social mobility in Britain is low. The educational opportunities and life chances of a child born today are strongly linked to their parents' socio-economic background. We fight for social mobility from birth to the workplace so that every young person – no matter who their parents are, what school they go to, or where they live – has the chance to succeed in life.
Programmes
·
London
·
Hybrid Remote
Head of University Access & Digital
Would you like to lead our university access and school engagement programmes? Why not apply to be our Head of University Access & Digital!
Loading application form
Already working at The Sutton Trust?
Let's recruit together and find your next colleague.